Just because we are social distancing doesn't mean we can't have live learning. Here are three upcoming Natural Yard Care webinars presented by Tacoma Pierce County Health Department and sponsored by Gig Harbor and University Place.
Info and links below. Bookmark this page. There's no sign up's at this time, but make sure to log in early because similar classes have filled up quickly recently.
For reminders of these and other upcoming gardening classes, sign up for updates: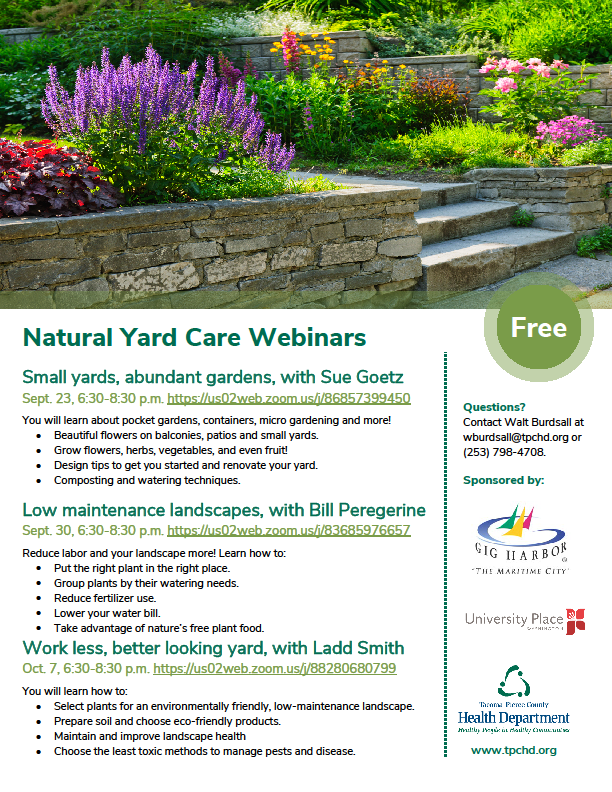 September 23, 6:30-8:30pm https://us02web.zoom.us/j/86857399450
You will learn about pocket gardens, containers, micro gardening and more!
Beautiful flowers on balconies, patios and small yards.
Grow flowers, herbs, vegetables, and even fruit!
Design tips to get you started and renovate your yard.
Composting and watering techniques.
September 30, 6:30pm-8:30pm https://us02web.zoom.u

s/j/83685976657
How to keep your landscaping looking good without a lot of work!
Learn how to:
Put the right plant in the right place.
Group plants by their watering needs.
Reduce fertilizer use.
Lower your water bill.
Take advantage of nature's free plant food.
October 7, 6:30pm-8:30pm http://us02web.zoom.us/j/88280680799
You will learn how to:
Select plants for an environmentally friendly, low-maintenance landscape.
Prepare soil and choose eco-friendly products.
Maintain and improve landscape health.
Choose the least toxic methods to manage pests and disease.
Questions?
Contact Walt Burdsall at wburdsall@tpchd.org or (253) 798-4708.
Free